Extensions for Opencart 3
Here is list of available extensions for Opencart 3 versions. Extensions will be added there one by one as soon as they are re-implemented from the previous version. In the nearest plans is to make 'CSV Product Export' extension (by August 22) and Task Scheduler for Opencart 3 (by Septmber 10).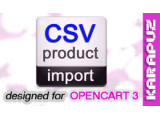 This extension adds the ability to import products from a file in csv format. The file can contai..
$17.95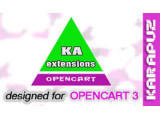 Ka Extensions is a library containing a shared code of extensions developed by karapuz. It does n..
$0.00
This upgrade package is only for users who had purchased 'CSV Product Import' and still has an ac..
$12.95
Showing 1 to 3 of 3 (1 Pages)