Extensions for Opencart 4
Opencart 4.0.0.0 was released on May 25, 2022. Here we will publish extensions compatible with that platform.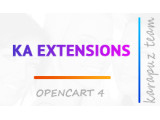 Ka Extensions is a library containing a shared code of extensions developed by karapuz team. The ..
$0.00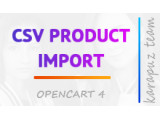 This extension adds the ability to import products from a file in csv format. The file can contai..
$20.00
Showing 1 to 2 of 2 (1 Pages)