Ka Extensions library (Opencart 3)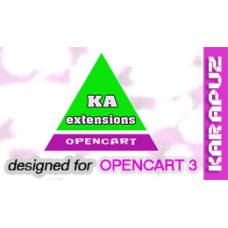 This is a free product. You can download files right on this page in the 'files' tab below.
Ka Extensions is a library containing a shared code of extensions developed by karapuz. It does not bring any features when it is installed standalone but karapuz extensions require this code in order to work. Installation is similar to any other ocmod extension.

Prior Opencart 3, Ka Extensions files were included into each karapuz extension, but due to some restrictions of Opencart 3, this code is distributed separately from other extensions.
| | | | |
| --- | --- | --- | --- |
| File | Size | Compatible Opencart Versions | Added |
| ka_extensions_ver4.1.0.29.ocmod.zip (ver.4.1.0.29) | 86.53KB | 3.0.0.0, 3.0.1.1, 3.0.1.2, 3.0.2.0, 3.0.3.0, 3.0.2.1, 3.0.3.0, 3.0.3.1, 3.0.3.2, 3.0.3.3, 3.0.3.5, 3.0.3.6, 3.0.3.7, 3.0.3.8 | 2022-09-01 13:45:13 |
| ka_extensions_ver4.1.1.9.ocmod.zip (ver.4.1.1.9) | 223.06KB | 3.0.0.0, 3.0.1.1, 3.0.1.2, 3.0.2.0, 3.0.3.0, 3.0.2.1, 3.0.3.0, 3.0.3.1, 3.0.3.2, 3.0.3.3, 3.0.3.5, 3.0.3.6, 3.0.3.7, 3.0.3.8 | 2023-10-04 03:25:59 |