CSV Order Export (Opencart 3)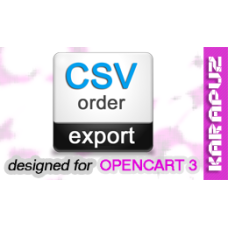 This extension adds the ability to export orders to a file in csv format.

Main features
- support of custom category fields which are located in the the 'category' and 'category_description' tables;
- there is no size limitations for the export file.
- different file charsets are supported (for example, UTF-8, Windows-1251).

A sample CSV file can be downloaded here:
https://www.ka-station.com/samples/orders_utf16_tab.csv

Demo Store
======================
http://demo3012.ka-station.com/admin/
login: demo
password: demo

The demo store is cleaned up every day. All imported data will be deleted. Maximum file size limit is applied.

Release Notes:
======================
- User interface is in English language only.
| | | | |
| --- | --- | --- | --- |
| File | Size | Compatible Opencart Versions | Added |
| csv_order_export_ver2.0.0.4.ocmod.zip | 23.11KB | 3.0.0.0, 3.0.1.0, 3.0.1.1, 3.0.1.2, 3.0.1.3, 3.0.2.0, 3.0.2.1, 3.0.3.0, 3.0.3.1, 3.0.3.2, 3.0.3.3, 3.0.3.5, 3.0.3.6, 3.0.3.7, 3.0.3.8 | 2021-09-18 03:55:12 |