CSV Product Export (Opencart 2)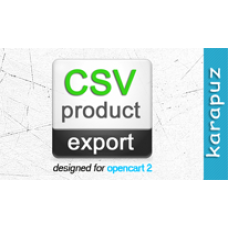 The extension exports product data into a CSV file. Users may choose which columns to include into the file. There is the ability to export products from specified categories only. CSV files are easily viewed by spreadsheet applications like MS Excel.

Here is a link to a sample file with all supported columns:
http://www.ka-station.com/samples/csv/demo_utf8.csv

Please notice that the current version does not export related products and downloads.
| | | | |
| --- | --- | --- | --- |
| File | Size | Compatible Opencart Versions | Added |
| csv_product_export_ver4.3.3.0.ocmod.zip | 89.12KB | 2.3.0.0, 2.3.0.1, 2.3.0.2 | 2017-08-09 21:05:24 |
| csv_product_export_ver4.1.5.ocmod.zip | 63.43KB | 2.0.1.0, 2.0.1.1, 2.0.2.0, 2.0.3.1, 2.1.0.1, 2.1.0.2 | 2017-09-30 20:18:38 |
| csv_product_export_ver4.2.3.3.ocmod.zip | 67.67KB | 2.2.0.0 | 2019-03-24 01:35:56 |
| csv_product_export_ver4.3.3.4.ocmod.zip | 89.55KB | 2.3.0.0, 2.3.0.1, 2.3.0.2, 2.3.0.3 | 2020-09-04 00:01:26 |