CSV Category Export (Opencart 1.5)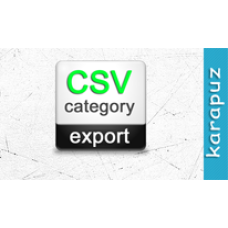 This extension adds the ability to export categories to a file in csv format. The file can contain all standard category fields including category filters (for opencart 1.5.5 and newer). It has support of custom category fields which are located in the the 'category' and 'category_description' tables.

There is no any size limitations for the export file. It splits the export to parts automatically displaying intermediate results every 10-15 seconds (by default).

Different file charsets are supported (for example, UTF-8, Windows-1251).

A sample CSV file can be downloaded here:
http://www.ka-station.com/samples/category/demo_utf8.csv

Demo Store
======================
http://demo1564.ka-station.com/admin/
login: demo
password: demo

The store is cleaned up every day. All imported data will be deleted. Maximum file size limit is 3Mb.

Minimum Requirements:
======================
- opencart 1.5.1.1
- VQMod installed;

Release Notes:
======================
- User interface is in English language only.

Related Extensions:
======================
- 'CSV Category Import' extension
- 'CSV Product Export' extension

EXTENSION SUPPORT: I usually answer questions from comments directly at email that is why you may see "unanswered" messages in the comments section below. All messages are processed within 24-72 hours.
| | | | |
| --- | --- | --- | --- |
| File | Size | Compatible Opencart Versions | Added |
| csv_category_export_ver1.0.3.0.zip | 51.15KB | 1.5.1.1, 1.5.1.2, 1.5.1.3, 1.5.2, 1.5.2.1, 1.5.3, 1.5.3.1, 1.5.4, 1.5.4.1, 1.5.5.1, 1.5.6, 1.5.6.1, 1.5.6.2, 1.5.6.3, 1.5.6.4 | 2021-05-17 02:17:59 |