Abandoned Cart Recovery (Opencart 2)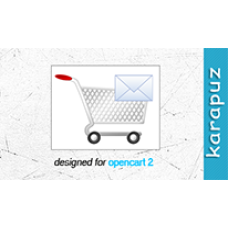 The module allows to see a list of customers who did not finish the purchase and send an email notification to them with their cart content. Email remainders can be submitted automatically, a schedule is defined by administrator on the 'Email Remainders' page.

Main features
=======================
- emails are collected for registered users and users entering the guest checkout;
- it works with multi-domain solutions;
- multiple email notifications are supported
- you can customize reminder emails by editing their part in a WYSIWYG editor;

Requirements
=======================
- cron job support is recommended on hosting but any external cron job service can be used as well;

Demo Store
=======================
http://demo2010.ka-station.com/admin/

admin login: demo
admin password: demo

Notes
=======================
- minimum interval for reminder schedule is 1 hour, i.e. it is not possible to send emails every 5, 10 minutes (at least yet);
- back-end interface is in English language only;
- I can assist you with module installation to an opencart store, but if your custom theme is not compatible with the extension, then a code customization might be required;

Feel free to submit your comments, questions, notes at support@ka-station.com or in comments below.
| | | | |
| --- | --- | --- | --- |
| File | Size | Compatible Opencart Versions | Added |
| ka_acr_ver3.1.1.ocmod.zip | 93.79KB | 2.0.1.0, 2.0.1.1, 2.0.2.0, 2.0.3.1 | 2017-08-08 20:54:30 |
| ka_acr_ver3.3.2.ocmod.zip | 100.92KB | 2.2.0.0 | 2017-08-08 20:54:30 |
| ka_acr_ver3.4.2.0.ocmod.zip | 113.71KB | 2.3.0.0, 2.3.0.1, 2.3.0.2 | 2017-08-08 20:54:30 |
| ka_acr_ver3.2.2.ocmod.zip | 97.71KB | 2.1.0.1, 2.1.0.2 | 2019-04-15 09:12:12 |